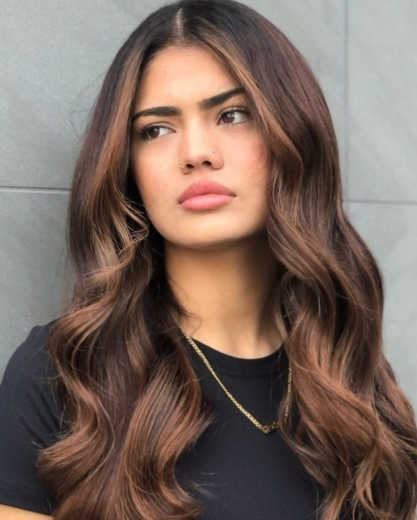 Balayage is a technique that was created by the French in the 70's. The colour is applied freehand as it is designed to give a natural sun kissed look. As well as soft natural looking colour, the Balayage technique has developed over time to also create stronger bolder looks. It doesn't always have to be blonde in colour, with a vast array of colours used to achieve varied looks.
At Hair by Phd we have spent many years training in the technique that is Balayage. Our team can create a look that is personally designed for you. From subtle low-maintenance looks to the very bold highlighted hair that turns heads.
Balayage can be very low maintenance, so you do not get strong demarcations and regrowth, as can happen with normal highlighting and solid colours.
It has really become the look of now. It is worn and made famous by some of the top models and celebrities in the world.
As mentioned, our team undergoes extensive training with this and many other colouring techniques. If performed incorrectly it can, not only look terrible, but it can also damage your hair.
Balayage along with many other hair colouring techniques are available at our three salon locations Parramatta, Carlingford or Camden. To discuss how we can give you the look you will love, come in and have a chat with one of our highly trained stylists. Because Balayage is a personalised look and different for every person, it is very hard to discuss the colour without seeing your hair. Come in for a chat and we can create a treatment plan to get a look you will love.
Fill in a booking form on this page or call us at one of our locations Parramatta, Carlingford or Camden.
Let Hair by Phd create the best Balayage experience you have ever had!
BOOK YOUR BALAYAGE APPOINTMENT