If you're addicted to the car crash reality TV show they call Married at First Sight, you would have noticed the shocking hair extensions on one of the brides, Elizabeth. Poorly blended, noticeable hair extensions are enough to make you cringe. In fact, the reason people are reluctant towards hair extensions stems from the fear of an unblended result. Seamless1 Hair Extension prevent this issue with their AAA standard individually crafted hair extensions, their products provide clients with quality, affordable hair for a seamless result. As an official stockist of Seamless1 hair extensions, our Hair by Phd  salons – Parramatta,Carlingford and Camden and  – offer quality hair extension application and styling services.
We have been doing hair extensions for many years and we are always looking at how adding extensions to a style can elevate a client's desired look. Hair extensions are an amazing way to give people of all ages longer and fuller hair, instantly. There are so many ways we can use hair extensions, including adding extensions to volumise hair on short styles or thin and damaged hair, adding colour to your style as well as providing instant length to your hair. You can even pop in clip-in extensions and you can have a totally different look for that special occasion in ten minutes!
I recently did a Q&A with our Hair by Phd Parramatta Director (and my sister) Louise about how hair extensions boosted her confidence. In the video, Louise explains how her hair-loss had a massive impact on her self-confidence until she discovered hair-extensions, which had a life-changing result on her appearance and self-esteem.
Hair by Phd recently had a Seamless1 training day for our team of stylists. We did a photoshoot with photographer extraordinaire, Justin Aveling to showcase our four stunning models whose hair was transformed by the power of Seamless1 Hair Extensions. Below are the stories of each model and how extensions done properly can have an uplifting effect on you.

Meet Eliana
Eliana is our gorgeous over 40's model, she has thick wavy hair, and was after more length and colour in her hair without having to spend the time growing it long and potentially drying out her hair, by adding more colour.
We used three different colours in her hair to create this complex play on colour (Cappuccino, Espresso and Opal/Mocha). Eliana was so pleased with the result she was floating out of the salon after we did her hair, even her hubby thought he had a new bride that night! Eliana beams with a new-found confidence, her smile is this shot says it all.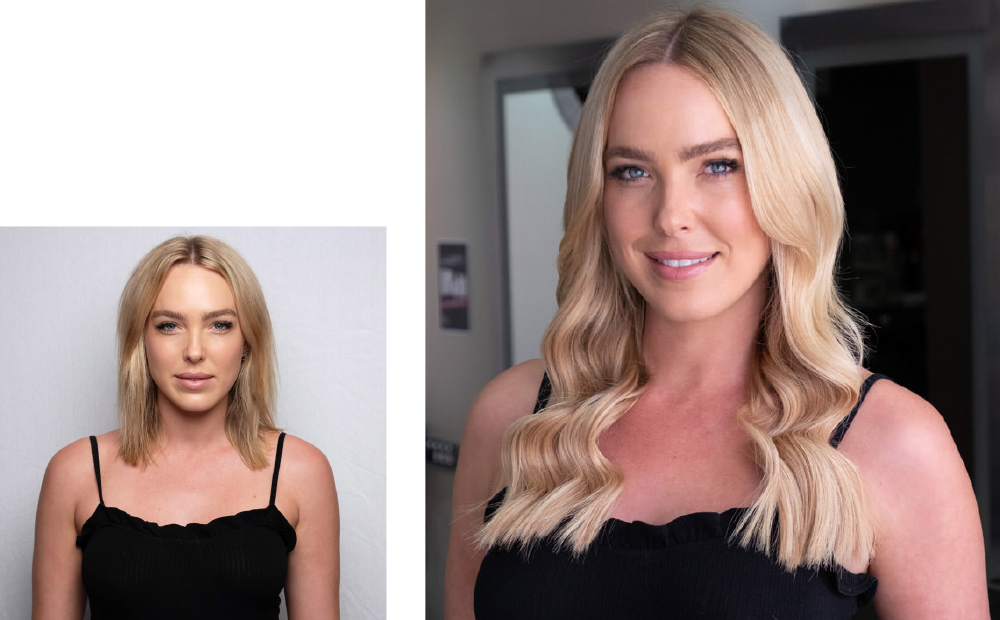 Meet Brianna
Brianna is a professional model whose hair had taken a beating after having bonded hair extensions. She had taken them out and her hair was left in a mess, so she resorted to getting a short-style cut to mend the damage. When I first spoke to Brianna, she was a little reluctant to have extensions after her past experience. I reassured her that Seamless1 tape extensions, if done properly, will not damage the integrity of her hair and she will have her natural long locks back again in no time!
We used three different blonde tones to match Brianna's highlighted hair (Vanilla, Opal and Milkshake). Brianna was thrilled with the end result. She had her beautiful long hair back which looked healthy and stunning. Colour matching is a real art, where professional application of hair extensions leaves client's hair looking nourished and natural.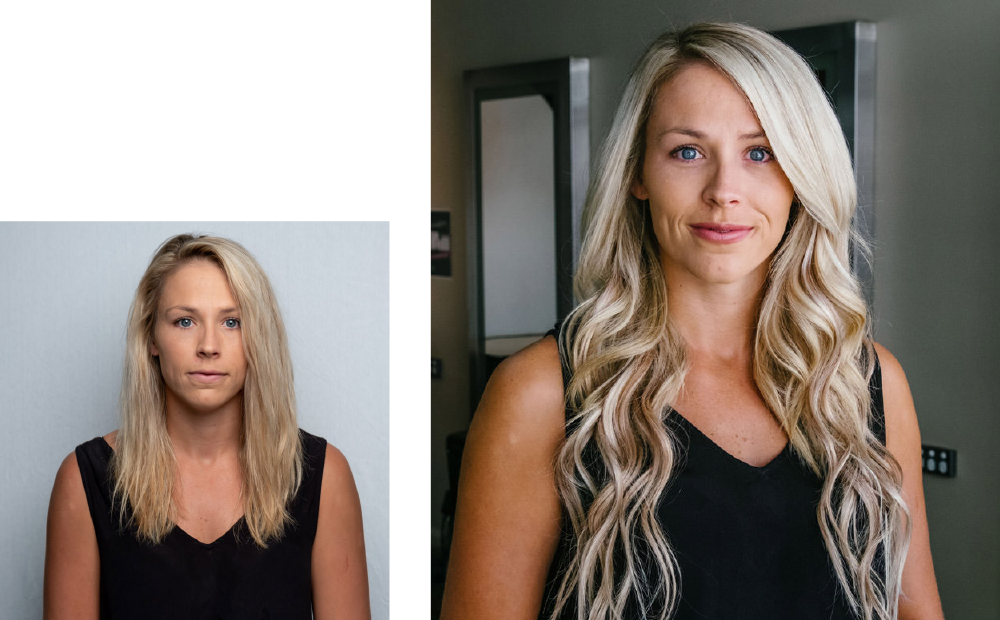 Meet Sophie
Sophie is part of the NSW Swifts netball squad. Her vigorous training schedule makes it very hard to manage her hair. Sophie is getting married later this year and wanted longer hair for her wedding without having a high maintenance regime as she is unable to dedicate time to her hair.
We used clip-in extensions for Sophie's hair. This gave her extra length in a matter of minutes that totally changed her look. Sophie can conveniently take out her clip-ins for training and netball games and reapply the clip-ins herself any time she feels like a change of look. Clip-in extensions are a great tape extension alternative to fit in beautifully with a busy lifestyle like Sophie's. As an added bonus, Sophie will also have the long hairstyle of her dreams for her wedding day! The colour we used for Sophie's clip-in's is Milkshake/Cinnamon.

Meet Ash
The stunning Ash does some part-time acting and modeling; she wanted to add some length and volume to her hair. Her hair was already reasonably long but Ash wanted it longer without the pain of waiting for it to happen naturally.
We used two colours on Ash to blend the extensions in with her highlighted hair. (Summer Days and Velvet/Vanilla). The results speak for themselves – longer, fuller gorgeous hair in an hour with the Seamless1 tape extensions. It's like magic!
The power to really change someone's look in a short period of time is something the team at Hair by Phd have at their disposal to give to you. If you are interested in having a complimentary consultation on how Seamless1 Hair Extensions can change your look, contact your Hair by Phd salon to book an appointment. Seamless1 Hair Extensions are available at our Parramatta, Carlingford and Camden salons. Check out more of our hair extension images on our social media, or get in touch here to organise a consultation time.